Background: Alternative pre-mRNA splicing as a central regulatory process for mammalian gene expression

In order to convert the genetic information stored in DNA to proteins, the DNA is transcribed as an intermediate called pre-mRNA (precursor messenger RNA). Only parts of the pre-mRNA, the exons, are exported into the cytosol as mature mRNA. Prior to the formation of mRNA, the exons are spliced together, which removes intermediate (intronic) sequences. Exons compromise less than 5% of the average human gene. This process can be alternative, which allows an organism to determine which parts of the DNA are translated into proteins. Alternative splicing affects more than 92% of human genes, making it one of the most versatile mechanisms to increase the use of genetic information stored in DNA.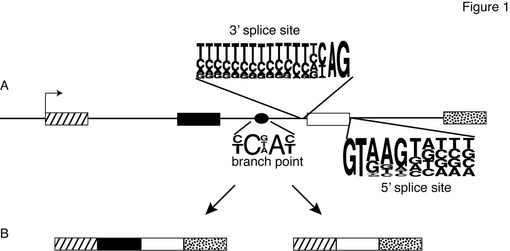 Figure 1: RNA elements that control alternative splicing A. A pre-mRNA is schematically shown. The transcriptional start site is shown as an arrow. Exons are shown as boxes, introns as lines. The consensus sequences for the branch point, 3' splice site and 5' splice site are indicated.

B. The pre-mRNA generates two mRNAs by joining the exons and removing the introns. Note that the black alternative exons is used alternatively, as it is present in one mRNA, but absent in another.


---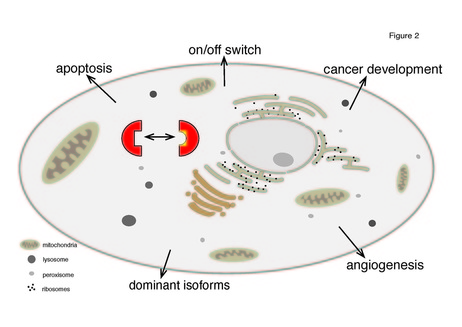 The overall function of alternative splicing is to increase the diversity of mRNAs expressed from the genome. Alternative splicing changes proteins encoded by mRNAs, which has profound functional effects. Experimental analysis of these protein isoforms showed that alternative splicing regulates binding between proteins, between proteins and nucleic acids as well as between proteins and membranes. Alternative splicing regulates the localization of proteins, their enzymatic properties and their interaction with ligands. In most cases, changes caused by individual splicing isoforms are small. However, cells typically coordinate numerous changes in 'splicing programs', which can have strong effects on cell proliferation, cell survival and properties of the nervous system. Due to its widespread usage and molecular versatility, alternative splicing emerges as a central element in gene regulation that interferes with almost every biological function analyzed.
see the full paper here
---
Project I: Molecular function of small RNAs derived from snoRNAs


We study the molecular cause for Prader-Willi syndrome, the most common genetic cause for systemic obesity. The goal of the project is to a) understand the function of a new class of non-coding regulatory RNAs and b) develop therapies against hyperphagia and obesity.
Prader-Willi syndrome is caused by the loss of expression of the 'Prader-Willi critical region', located on chromosome 15. Recently, several patients with Prader-Willi like phenotypes have been described. These patients had microdeletions affecting two clusters of small nucleolar RNAs, SNORD115 and SNORD116, indicating that the loss of small nucleolar RNAs plays a central role in the etiology of the disease.
We determine the molecular mechanisms that link the loss of SNORD115 and SNORD116 to the syndrome and obesity. Loss of SNORD115 could explain hyperphagia observed in PWS patients,
since SNORD115 was shown to regulate alternative splicing of the serotonin receptor 2C
causing generation of most active form of the receptor. SNORD116 influences the expression of miRNAs hosted in the second exon of the serotonin receptor 2C and we currently investigating the influence of SNORD116 on gene expression.
SNORD115 and SNORD116 do not express canonical C/D box snoRNAs, but are
likely processed into shorter RNAs
, termed psnoRNAs that do not associate with the proteins typically found in C/D box snoRNAs. Canonical C/D box snoRNAs function in 2'O methylation of non-coding RNAs and form a defined ribonuclear complex with the proteins fibrillarin, NOP56/58 and 15.5kD (
NHP2L1),
(
see review about processed snoRNAs
).
Thus SNORD116 and SNORD115 generate a new class of regulatory RNAs that regulate RNA processing. We are currently determine their target genes and molecular mechanism. We
identified drugs
that similar to SNORD115 promote formation of the most active serotonin receptor 2C isoform, which are tested in mice.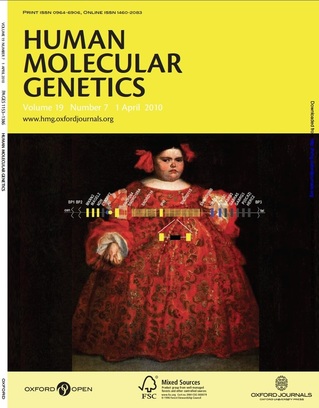 The image depicts Doña Eugenia Martinez Vellejo, a likely Prader Willi Syndrome (PWS) subject, by the Spanish baroque painter Juan Carreño de Miranda (1614–1685). Doña Eugenia was approximately six years of age at the time of the painting (c. 1680).1 The maternally imprinted region on chromosome 15 that is involved in PWS is shown. Genes expressed from the paternal chromosome are in yellow, gene expressed from the maternal chromosome are in blue, genes expressed from both chromosomes are in gray. PWS is caused by the loss of gene expression from the paternal chromosome. BP1, BP2 and BP3 are the breakpoint cluster regions. IC is the imprinting center.
Expression units hosting small nuclear RNAs (snoRNAs) are shown as thin vertical lines. In humans, there are at least 24 and 47 copies of the SNORD 116 (HBII-85) and SNORD115 (HBII-52) units, respectively. One of these units is enlarged below the gene structure and shows the homing exons in yellow, and the snoRNA in black. This snoRNAs give rise to smaller RNAs (psnoRNAs for processed snoRNA) that regulate alternative splicing (
see Kishore et al., 2010
).
1Pozzilli, P. and Khazrai, Y.M. (2005) "La Monstrua Vestida", a case of Prader-Willi syndrome. J Endocrinol Invest, 28, 199.
---
Project II: Use of splicing inhibitors as cancer drugs

A deregulation in pre-mRNA splicing is a hallmark of cancer cells. Thus, manipulating pre-mRNA splicing could be of therapeutic value to treat cancer. Sudemycins are simpler chemical analogs of the pre-messenger RNA splicing modulator FR901464, derived from bacteria. Sudemycins causes the selective death of cancer cells through an unknown mechanism. Sudemycins bind to the U2 small nuclear ribonucleoprotein (snRNP) component SF3B1. The drug treatment causes a dissociation of U2 snRNP, which causes changes in alternative splicing, but also changes U2 snRNP interaction with chromatin.
We determining the molecular changes in chromatin and are investigating how the combined change in splice site selection and chromatin modifications cause a selective death of cancer cells (
Convertini et al., 2014
).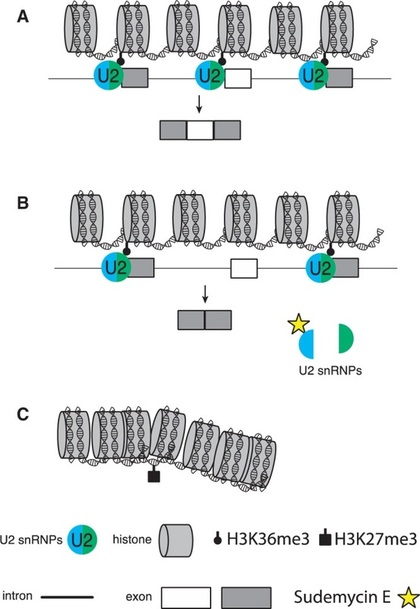 Model for sudemycin E treatment. (A) In actively transcribed genes, U2 snRNP interacts with histones, which stabilizes the H3K36me3 modification. U2 snRNP can interact with histones that are close to alternative exons. (B) Sudemycin E binds to the U2 component SF3B1 and causes a dissociation of the complex. Sudemyin affects alternative exons that are likely dependent on base pairing with U2 snRNA (white exon). The H3K36me3 modification is removed near these exons. (C) The loss of the H3K36me3 modification causes chromatin condensation, and possibly spreads through chromatin, leading to the observed changes in gene expression.

---